On October 29, 2019, An Memorandum of Understanding between the Institute of Genetics and Developmental Biology, Chinese Academy of Sciences, and the Center for Plant Biotechnology and Genomics (CBPG) of Spain was signed. Under the framework of this agreement, the researchers from Spain and China will carry out cooperation in scientific research, academic exchanges, etc.
The Centre for Plant Biotechnology and Genomics (Centro de Biotecnología y Genómica de Plantas, CBGP) is a mixed research center constituted by Universidad Politécnica de Madrid (UPM) and Instituto Nacional de Investigación y Tecnología Agraria y Alimentaria (INIA). In 2017, it was selected into the Spanish Excellence Programmes of "Severo Ochoa" Centres. These Programmes seek to boost Spanish science by recognising existing cutting-edge research centres and units, and by further supporting them to enhance their impact, their international scientific leadership, and competitiveness. Currently, 25 centres hold the "Severo Ochoa" Centres of Excellence accreditations in Spain.
The cooperation between CBGP and IGDB will be a strong alliance in the research field of plants. During the first working meeting, the parties had in-depth discussions on bilateral symposiums, cooperative research projects, exchange of researchers and students. They also initiated to jointly establish a research center for sustainable agriculture in the future.
Professor Jose Miguel Atienza, Vice President of International Affairs of UPM, Professor Esther Esteban, Director of the INIA, and Director YANG Weicai of IGDB, respectively signed the memorandum on behalf of their institutions.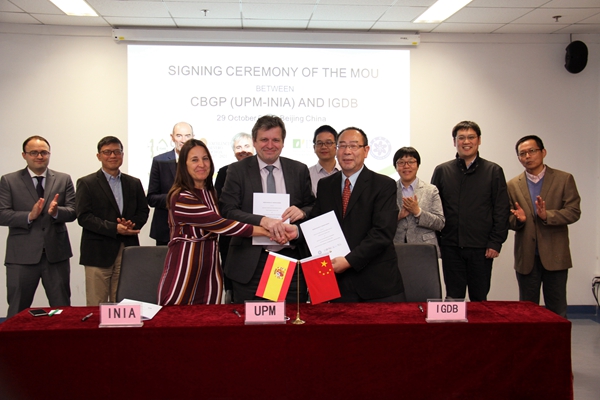 Signing of the MOU between CBGP (UPM-INIA) and IGDB. (Image by IGDB)