Second Prize of theNational Science-Technology Progress Award
Major participating institutions:
(1) Center for Agricultural Resources Research, Institute of Genetics and Developmental Biology, The Chinese Academy of Sciences
(2) Hebei Provincial Academy of Water Resources
Focusing on the problems of water shortage and excessive groundwater exploiting, four models of comprehensive water-saving agricultural technology system were studied and integrated, namely border irrigation with low-pressure pipeline, surge irrigation with low-pressure pipeline, semi-fixed sprinkler irrigation and micro-irrigation in greenhouse. Additionally, a series of no-tillage machinery equipment and intelligent devices for irrigation metering were developed. The application of those models and technologies significantly improved crop water use efficiency and irrigation efficiency. It has provided technical support for water-saving agriculture in the well-irrigation area in northern China. In general, the achievements of the project reached international advanced level.
1. Key technologies and innovative points
1.1 Comprehensive technology systems and development models for efficient irrigation in the typical well-irrigation area in northern China
In consideration of the water shortage situation in northern China, the project aimed at increasing agricultural water use efficiency and mitigating the over-exploitation of groundwater. Eight water-saving agricultural techniques were studied and screened. Based on different ecological and economic situations, four development models for water-saving agriculture were integrated, namely low-pressure pipeline water transportation system + small border irrigation (or surge irrigation) + comprehensive agronomic water-saving practices + water-saving management models; sprinkler irrigation with pipeline system+ comprehensive agronomic water-saving practices+ water-saving management models; and micro-irrigation in vegetable greenhouse + precise control of irrigation + high-yield cultivating technologies. Related technical procedures were produced. Those achievements provided technical supports for water-saving agricultural development in the well-irrigation area in northern China.
1.2 Integrated technical models for matching water transportation system with field irrigation techniques
Based on the theories of surface irrigation flow and water balance, and taking full consideration of the factors of water source, soil quality, terrain and tillage methods, the project developed a model for optimizing the combination of pipeline system with field irrigation techniques, which increased the water use efficiency of irrigation. The model solved the problems of integrating the pipeline system with field irrigation techniques in theory and in practice.
1.3 Water-saving technologies under minimum or zero-tillage and straw mulching for winter wheat-summer maize rotation cropping system
The project systematically studied the water-saving potential and efficiency of straw mulching during both growing seasons of winter wheat and maize, the main rotation cropping system in northern China. A planting model and its related implements were developed using maize straw to cover winter wheat field without chopping the straw under minimum tillage. Furthermore, the project integrated a mechanized straw mulching, no-till and high-yielding technology system with maximum reduction in soil evaporation. Thus, crop water use efficiency was significantly increased.
1.4 Intelligent management system for precise irrigation and new models for participatory water-saving management
The project developed anintelligent management device (IC card and related facilities) for metering pump, designed an intelligent control software for precise irrigation and fertilization in greenhouses, established farmers' participatory water management association and water use mechanisms. Those tools provided hardware supports and water-saving management models for increasing agricultural water use efficiency in the well-irrigation areas.
2. Impact of theproject
This project has beendemonstrated and applied in the well-irrigation areas in the provinces of Hebei, Shanxi and Shandong. The increased output value, increased profit-tax and saved expense were 992.41, 629.65 and 89.05 million Yuan (RMB), respectively. This project has achieved good economic and social benefitsand is very important to promote the level of water-saving technology and accelerate the industrialization of water-saving.
Demonstrating site of the comprehensive agricultural water-saving technology in the well-irrigation area in partial-arid semi-humid region in northern China.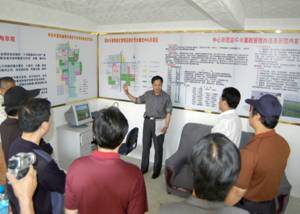 Management centre for irrigation metering and water marketing in the demonstrating site.
Demonstrating scene for water-saving and no-till technology.