Nitric oxide (NO) is a redox-active molecule that plays a key role in a broad spectrum of physiological and developmental functions throughout plant life cycle.
To generate insights into the potential role of NO in the process of rice leaf cell death, scientists in Dr. Chengcai Chu's group from the Institute of Genetics and Developmental Biology, the Chinese Academy of Sciences carried out an extensive screening of their large rice T-DNA mutant population, and isolated a NO content increased mutant, named nitric oxide excess 1 (noe1). Map-based cloning revealed that NOE1 encoded a rice catalase. Further, noe1 resulted in an increase of hydrogen peroxide (H2O2) in the leaves, which consequently promoted NO production via activation of nitrate reductase (NR). Removal of excess NO reduced cell death in both leaves and suspension cultures derived from noe1 plants, implicating NO as an important endogenous mediator of H2O2-induced leaf cell death. Reduction of intracellular SNO (S-nitrosothiol) level, generated by over-expression of OsGSNOR, which regulates global levels of protein S-nitrosylation, alleviated leaf cell death in noe1 plants. Thus, S-nitrosylation was also involved in light-dependent leaf cell death in noe1. Utilizing the biotin-switch assay, nanoliquid chromatography, and tandem mass spectrometry (LC/MS/MS), S-nitrosylated proteins were identified in both wild type and noe1 plants. NO targets identified only in noe1 plants included glyceraldehyde 3-phosphate dehydrogenase (GAPDH) and thioredoxin (TRX), which have been reported to be involved in S-nitrosylation regulated cell death in animals.
The results have been online published on Plant Physiology(DOI:10.1104/pp.111.184531) with Dr. Aihong Lin, Dr. Yiqin Wang, and Dr. Jiuyou Tang as the co-first authors. This research was supported by grants from Chinese Academy of Sciences, Ministry of Science and Technology, Ministry of Agriculture of China, and National Natural Science Foundation of China.
AUTHOR CONTACT:
Chengcai Chu, Ph.D.
Institute of Genetics and Developmental Biology, Chinese Academy of Sciences, Beijing, China.
E-mail: ccchu@genetics.ac.cn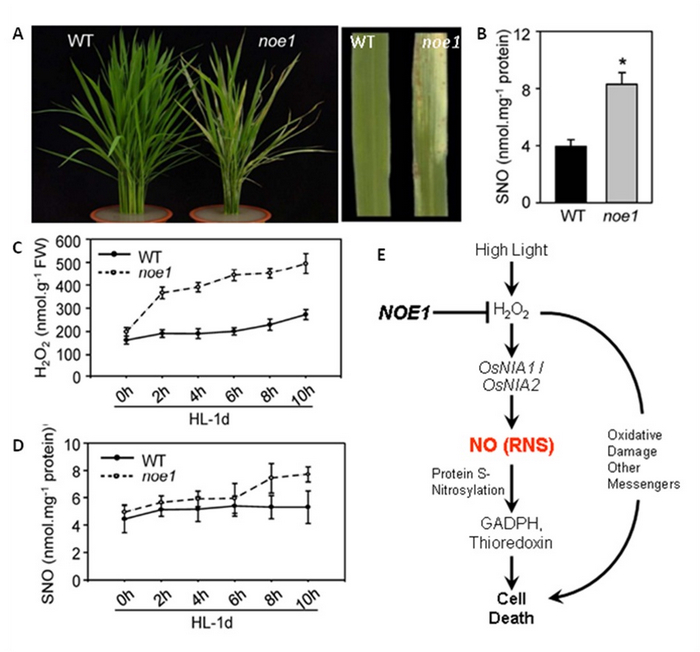 Figure 1. NO and Protein S-nitrosylation is involved in H2O2-induced leaf cell death. Phenotypes (A) and SNO contents (B) of 3-month-old wild type (WT) and noe1 grown under high light (1600 μmol.m-2·s-1). H2O2 (C) and SNO (D) contents in wild type and noe1 seedlings at 2 h interval at the first day following exposure to high light. A proposed model (E) for the role of NO and SNOs in H2O2-induced leaf cell death in rice. (Image by Aihong Lin etc.)