Schizophrenia is a severe neuropsychiatric disorder with high heritability, affecting about 1% of the global population. Major advancements have recently been made in identification of genetic risk factors for schizophrenia, but understanding biological roles of these risk factors in brain circuitry formation and maintenance at the molecular, cellular and behavioural levels are still a big challenge.
Scientists from XU Zhiheng's group at the Institute of Genetics and Developmental Biology, Chinese Academy of Sciences, and MING Guoli's group at Johns Hopkins University School of Medicine revealed that Crmp2 (collapsing response mediator protein 2), a schizophrenia risk gene, plays a critical role in neural development, circuit integrity and brain function.
They found that brain Crmp2 knockout mice exhibited increased locomotion, and social, cognitive and affective impairment, many of which are reminiscent of neural features and symptoms associated with schizophrenia. At molecular and cellular level, they found the mutant mice displayed aberrant composition of NMDA receptor subunit and abnormal long-term potentiation of synaptic transmission. In further studies, they found impaired adult hippocampal neurogenesis in the mutant mice.
Taking together, they provided a valuable mouse model for better understanding the aetiology of schizophrenia and targeted strategies for drug development.
This study entitled "Brain-specific
Crmp2
deletion leads to neuronal development deficits and behavioural impairments in mice" was published online in
Nature Communication
(
doi: 10.1038/ncomms11773
, PMID: 27249678).
This work is supported by grants from National Natural Science Foundation of China and the Ministry of Science and Technology of China.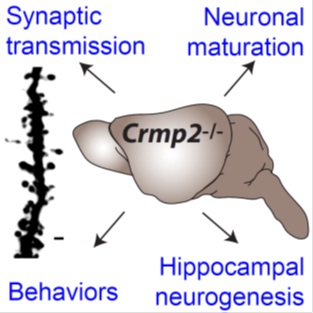 Roles of Crmp2 (Image by ZHANG Hongsheng et al.)
Contact:
Dr. XU Zhiheng
Email: zhxu@genetics.ac.cn