Rice is an important crop worldwide and direct sowing on dry upland is a trend to save labor and water. Elongation of the mesocotyl and coleoptile facilitates the emergence of rice seedlings from soil, and this process is affected by various genetic and environment factors. The regulatory mechanism underlying this process remains largely unclear.
Professors ZHANG Jinsong's group and CHEN Shouyi's group, from Institute of Genetics and Developmental Biology, Chinese Academy of Sciences, in collaboration with Professor LI Zhikang's team, from Chinese Academy of Agricultural Sciences, discovered the mechanism for mesocotyl/coleoptile elongation in etiolated rice seedlings.
They found this novel regulatory mechanism of mesocotyl and coleoptile growth by characterizing a gaoyao1 (gy1) mutant that exhibits a longer mesocotyl and longer coleoptile than its original variety of rice (Oryza sativa). GY1 was identified through map-based cloning and encodes a PLA1-type phospholipase that localizes in chloroplasts. GY1 functions at the initial step of jasmonic acid (JA) biosynthesis to repress mesocotyl and coleoptile elongation in etiolated rice seedlings. Ethylene inhibits the expression of GY1 and other genes in the JA biosynthesis pathway to reduce JA levels and enhance mesocotyl and coleoptile growth by promoting cell elongation. Genetically, GY1 acts downstream of the OsEIN2-mediated ethylene signaling pathway to regulate mesocotyl/coleoptile growth. Through analysis of the re-sequencing data from 3,000 rice accessions, a single natural variation of the GY1 gene, GY1376T, was identified, which contributes to mesocotyl elongation in rice varieties (Figure 1).
Since the rice cultivars in China have a very low frequency of this elite allele, introduction of this allele into the various cultivars should broaden its use in breeding.
This study reveals novel insights into the regulatory mechanism of mesocotyl/coleoptile elongation, and should have practical applications in rice breeding programs.
This work has been published online in
Plant Cell
(
doi:10.1105/tpc.16.00981
.) on May 2, 2017. Drs Qing Xiong, Biao Ma and Xiang Lu are co-first authors of the paper.
This work is supported by the 973 project, the National Natural Science Foundation of China and other projects.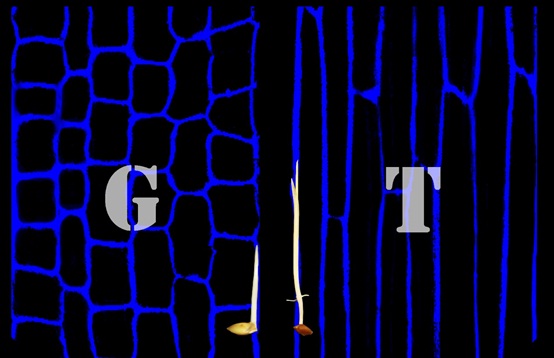 GY1 natural variant GY1376T associates with long mesocotyl in rice cultivars.(Image by IGDB)
Contact:
Dr. ZHANG Jinsong