Sugars not only play crucial roles as energy sources and carbon skeleton supply but also act as signal molecules that regulate a variety of growth and developmental processes in yeasts, animals and plants. Several sugar sensing and signaling mechanisms have been characterized in yeasts and animals. Unlike yeasts and animals, plants are autotrophic organisms that produce sugars by photosynthesis. Thus, plants might possess unique mechanisms by which plants sense the status of carbon to regulate their growth and development.
Recently, researchers from LI Yunhai's group in the Institute of Genetics and Developmental Biology (IGDB), Chinese Academy of Sciences (CAS), collaborated with Professor CHENG Beijiu from the Anhui Agricultural University and Dr. ZHENG Leiying from the Institute of Botany, CAS, reported that BR receptors associate with G proteins to regulate sugar-responsive growth and development.
In this recent study, researchers found that loss-of-function mutants of the brassinosteroid (BR) receptors BRI1 and BAK1 exhibit sugar-insensitive phenotypes. The physical interactions and phosphorylations of BRI1 and BAK1 are regulated by the concentration of glucose. Biochemical analyses showed that BRI1 and BAK1 could physically interact with and phosphorylate G proteins.
Further analyses revealed that BRI1 and BAK1 function in a common pathway with G protein subunits to regulate sugar responses, and the phosphorylation of G proteins by BRI1 and BAK1 affects the dissociation of Gα and Gβ/γ subunits in response to glucose.
Taken together, these finding not only defined an important genetic and molecular mechanism by which BR receptors associate with G proteins to regulate sugar-responsive growth and development, but also revealed a novel mechanism that how plant G proteins sense upstream signals to regulate growth and development.
The findings are published online in
Nature Communications
entitled "BRI1 and BAK1 Interact With G Proteins and Regulate Sugar-Responsive Growth and Development in Arabidopsis" on April 18, 2018 (
DOI:10.1038/s41467-018-03884-8
).
This work is supported by grants from the National Natural Science Foundation of China, the Ministry of Agriculture of China, and the Chinese Academy of Sciences.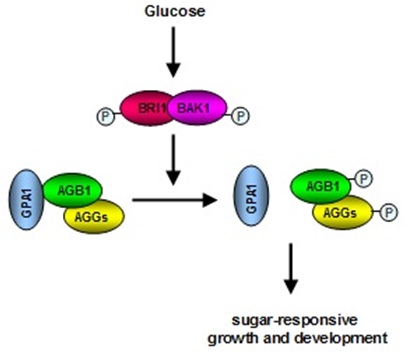 Figure. A model of sugar signal pathway mediated by BRI1/ BAK1 (Image by IGDB)
Contact:
Dr. LI Yunhai
Institute of Genetics and Developmental Biology, Chinese Academy of Sciences