On April 21, Plant Communications online published an article titled "A Tailored High-efficiency Sample Pretreatment Method for Simultaneous Quantification of 10 Classes of Known Endogenous Phytohormones" from the team of CHU Jinfang, a phytohormone analysis platform of the Institute of Genetics and Developmental Biology, Chinese Academy of Sciences. The article reports a novel high-efficiency method for simultaneous quantitative analysis of 10 known types of phytohormones from one plant sample.
Plant hormones are naturally occurring small organic molecules in plants and play an important role in regulating plant growth and development and responding to external stress. According to different structural characteristics and physiological functions, plant hormones are divided into different types. Multiple classes of plant hormones interact through signaling networks when regulating one specific physiological process, which is called crosstalk or cross-regulation by botanists.
As phytohormone network interactions and the research of new phytohormone functions deepen, botanists urgently need more reliable and efficient analysis techniques in order to obtain the spatial and temporal distribution of more phytohormone classes simultaneously from one piece of plant tissue sample and subsequently clarify the regulation mechanism of plant hormone network more clearly.
The phytohormone analysis platform (
http://www.genetics.ac.cn/jspt/zwjs/
) has long been devoted to the development of high-efficiency and high-sensitivity phytohormone analysis methods and technologies. The methods established by the platform are widely used in the study of plant hormones, which greatly promotes the completion of high-level original research in related fields in China. Based on the previous research, starting from the chemical structure and physiochemical properties of all known types of plant hormones, the researchers carefully designed a sample preparation strategy covering all classic plant hormones and new hormones including strigolactones and peptide hormones. Combined with LC-MS/MS technique, only 100 mg plant sample is needed to achieve accurate quantitative analysis of all known classes of phytohormones including 44 compounds.
This method covering all known types of phytohormones is the most comprehensive analytical method reported so far, and successfully solves the problem of simultaneous absolute quantitative analysis of plant hormonomics. The application of this method will provide more powerful technical support for the study of plant hormone network interaction.
This work was financially supported by the Strategic Priority Research Program of Chinese Academy of Sciences, the National Natural Science Foundation, the Key Research Program of the Chinese Academy of Sciences and the CAS Key Technology Talent Program (2017).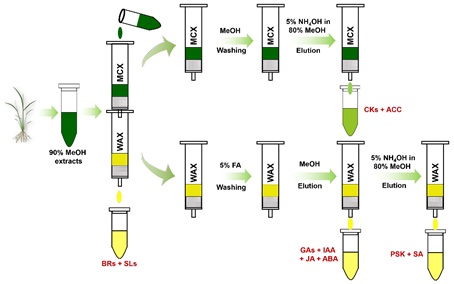 The overall design of sample pretreatment for quantitative analysis of all known classes of phytohormones (Image by IGDB)
Contact:
QI Lei
Institute of Genetics and Developmental Biology, Chinese Academy of Sciences