Strigolactones (SLs) are carotenoid-derived plant hormones that control many aspects of plant development. Karrikins (KARs) are signaling molecules discovered in burned plant materials and regulate seed germination and seedling development. It has been generally considered that SLs and KARs employ different SMXL family members for signal transduction in Arabidopsis thaliana, although they share similar chemical structures.
The research group led by Prof. LI Jiayang from the Institute of Genetics and Developmental Biology (IGDB), Chinese Academy of Sciences, found that synthetic SL and KAR analogs can both regulate hypocotyl elongation and expression of the same downstream genes, raising the question of whether SL and KAR signaling are convergent or parallel.
They demonstrated that SMXL2 is involved in both SL and KAR signaling pathways. SLs and KARs both trigger the ubiquitination and degradation of SMXL2, dependent on SL and KAR receptors, respectively. SMXL2 plays critical roles in seedling photomorphogenesis and downstream gene expression commonly regulated by SLs and KARs. Modulation of hypocotyl elongation by both SL and KAR signaling potentially provides flexibility inphotomorphogenic responses to diverse environmental factors.
These discoveries provided biochemical evidence for the KAR signaling pathway, and uncovered an unexpected but important mechanism underlying SL and KAR signaling involving SMXL2 polyubiquitination and degradation.
The paper entitled "Strigolactone and karrikin signaling pathways elicit ubiquitination and proteolysis of SMXL2 to regulate hypocotyl elongation in
Arabidopsis thaliana
" was published online in
The Plant Cell
on April 30, 2020 (
doi:10.1105/tpc.20.00140
).
This research was supported by National Natural Science Foundation of China and Chinese Academy of Sciences.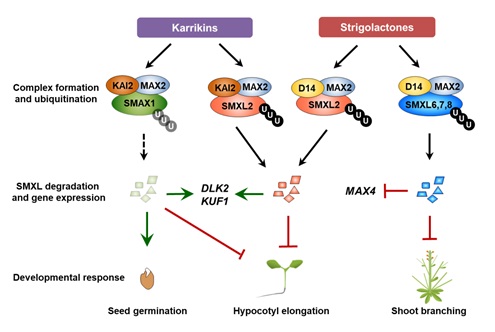 SL and KAR induce SMXL2 degradation to regulate hypocotyl elongation and gene expression (Image by IGDB)
Contact:
QI Lei
Institute of Genetics and Developmental Biology, Chinese Academy of Sciences